The rear brake and what to do with it
Your rear brake can be your best friend in many situations, not just when you want to slow down or quickly rotate your bike. Actually, you should never use your rear brake to slow down, because that's not why it's there! The only brake that will slow you down efficiently is your front brake, so stop smashing that poor rear brake pedal when you're trying to slow down for a turn, because it's not working very good…all you're doing is locking up your rear wheel and making it slide. Instead, use your rear brake to stabilize your bike when coming into turns, by pushing on it gently and tapping it to allow your rear wheel to rotate (don't lock it up).
Wait there's more…
But the rear brake has many more uses, and you need to learn to use it everywhere, not just braking into turns. One of the best places to use your rear brake a lot is down a rough hill full of bumps, while you're wide open on the throttle. Don't push on it too hard or it will slow you down more than you need, but keep your toes on it and put pressure on the pedal as you go through the rough parts. By doing so, your bike will be more stable and you won't get kicked as much, as your shock will stay low and not rebound at the speed of light! When I rode in the 250cc class with Factory Kawasaki and Factory Suzuki, I used to go through 1 set of rear brake pads in each moto during race day (I was a little extreme on my rear brake…)! I would use my rear brake everywhere there was big bumps or breaking bumps to stabilize my bike, all while being wide open. It really makes a huge difference on your bike's handling!
Here are some photos below that try and show you Villopoto and Reed using their rear brake while still on the gaz (I couldn't find anything better for this purpose, I'll have to start shooting more specific things!):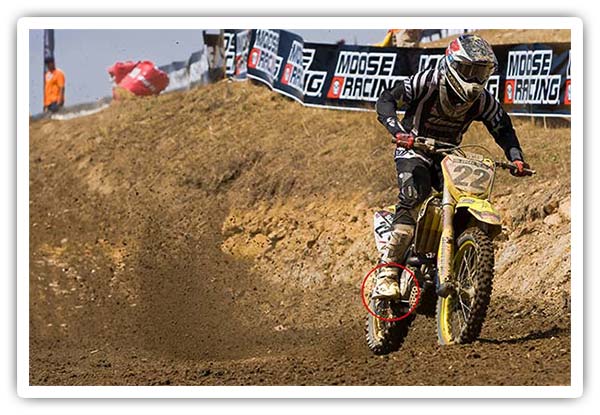 In this image, Chad is slightly pressing on his rear brake to stabilize the rear of the bike through the bumps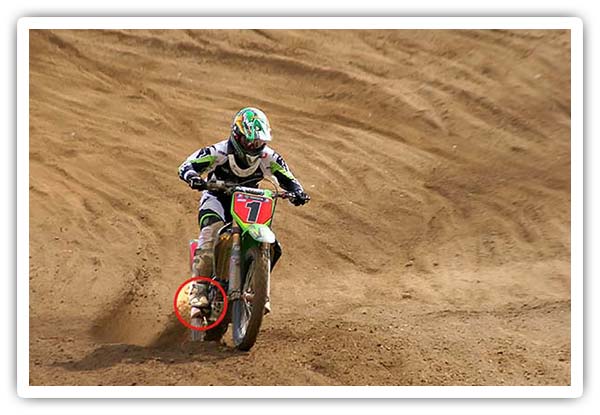 Here, Ryan is doing the same thing as he's accelerating through the downhill bumps at Glen Helen
That's it for today's quick tip! Next time you go riding, try to remember that your rear brake has more than 1 purpose, and try to use it like I talk about in this article. Don't hesitate to contact me if you have any questions and I'll do my best to reply promptly.